Welcome to the online version of The Children's Center Quarterly Newsletter! Click here for a printable PDF.
Aidan
Aidan hurries over to the block area in his inclusive classroom, calling to the children there, plunks himself down, and joins the play. A few minutes later he picks up two pencils, sings out "1, 2, 3, 4" like a bandleader and starts tapping a precise rhythm with his "drumsticks."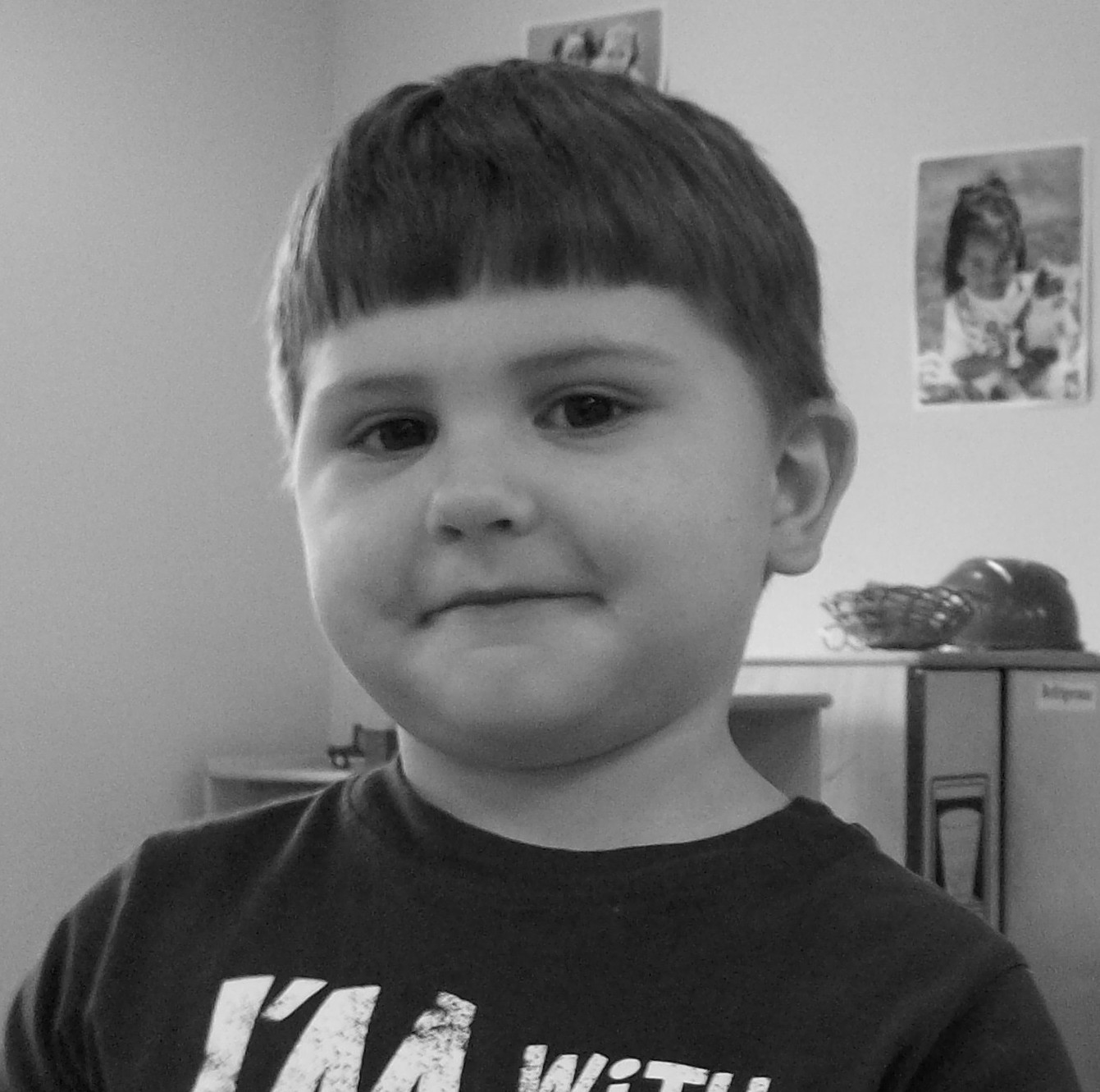 Aidan turned four in February and has been coming to the Children's Center for a little over 2 years.  His mother describes him as "loving, affectionate, and outgoing, and picks up numbers and letters easily."
Aidan lives with his parents, Jen and Darrell, and his brother, Jacob. When he was 12 months old, he was saying about 10 words. At 15 months, he had lost the use of those words, so his mother contacted Child Development Services. Soon he was receiving developmental therapy and speech therapy at the Children's Center. Jen was "devastated when he was diagnosed with mild classic autism" but since beginning his therapies, "his future has become brighter."
His parents receive respite care services, administered by the Children's Center and funded by the Department of Health and Human Services. "Time for yourself as the parent of a child with special needs is very important," Jen says, "It's the deep breath needed in the middle of the day."
Today, Aidan has blossomed. He has graduated from speech and language services and talks a lot! In the fall, he will transition into the four-year-old program at his public school. His mother's advocacy for him has brought him far.
"If you have concerns about your child," she advises other parents, "don't ignore them. The sooner you address them and intervene the better."
Jen has been inspired by this journey and will attend the University of Maine at Augusta to earn a degree in mental health and human services. Aidan and his family are launching into the world, whole and happy, from the Children's Center.
Children's Center Unveils New Gazebos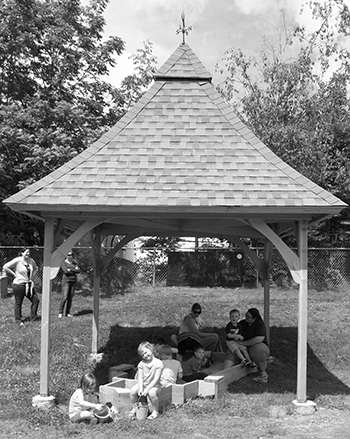 The Children's Center unveiled two new gazebos on its unique playground for children of all abilities. These beautiful structures were designed especially for the Children's Center by Steve Kent, a structural engineer, and built thanks to grants from Home Depot and the Sun Blocks Program of the Maine Center for Disease Control and Prevention.
According to the Maine Comprehensive Cancer Control Program, people get over half of their lifetime ultra-violet ray exposure—one of the most common causes of skin cancer—during childhood.
Since most young children are under the care of a childcare provider during peak sun hours, it is very important for sun protection to be practiced by people who provide care for children. The Sun Blocks Program was launched in 2008 to help centers create sun-safe childcare environments, as well as assist in building a foundation for lifelong healthy skin.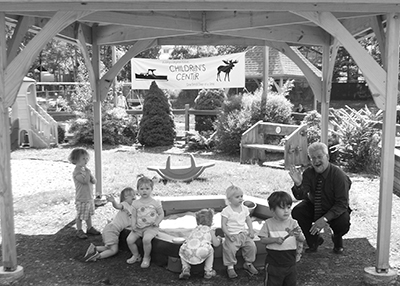 Upon receiving a $1,000 grant from this program in the summer of 2009, the Children's Center approached the Augusta Home Depot to form a partnership that would create additional shade on its recently expanded playground. As a part of their Building Healthy Communities grant program, Home Depot contributed an additional $4000 to the project.
Vladamir Blazanin, Store Manager of the Augusta Home Depot, was already familiar with the work of the Children's Center in providing a comprehensive array of services to young children of all abilities. He committed even more resources to the project by mobilizing "Team Depot" to volunteer. Steve Kent drafted plans for these one-of-a-kind structures that provide shady areas for play and accent the State-of-Maine theme of this outdoor space. Devoting more than 250 hours of volunteer labor, Kent built these two gazebos with the assistance of Home Depot and Children's Center volunteers.

The completed projects are spectacular additions to the Children's Center's playground, which also features a waterfall, a moose slide, a lobster boat, and an enchanted forest.  All of the features of this playground were designed and constructed to promote active and creative play among children with special needs and without while promoting their safety and well-being.  The enhanced sun safety of these two new gazebos has put a finishing touch on a most distinctive playground.
Learnings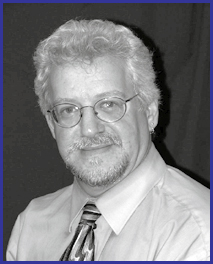 Two things happened recently that struck me as quite a coincidence. We broke ground on a small expansion project, enclosing an area on the back of the building. This will ultimately become one large room, which in turn will enable each of our inclusive programs to move into a bigger space, and will provide an additional room for individualized work with children.
That is exciting!  But what was more possibly exciting for me was meeting a part of our history. It was been part of our shared 'memory' as an agency is that the Children's Center traces its roots back to one mother who was frustrated by the lack of services for her daughter.
Our agency started in her home, then moved to the basement of the Penney Baptist Church, and grew to become the Center that we enjoy today. Last week, the daughters of that woman (Mary Bryant Nguyen and Anne Rokeach) made surprise visits to the Center. Priscilla Chavarie founded the United Cerebral Palsy Association of Mid-State Maine to meet the needs of her daughter Mary.
Priscilla Mae Stearns Bryant Chavarie passed away peacefully on Sunday, June 27th. We are honored that Mary and Anne made the time to see us during a time of loss, and hope that they went away comforted by the knowledge that their mother's legacy is a vibrant one. It was a pleasure to meet them both and to learn that Mary is married and is studying to be a counselor for children with special needs. Seeing her converse in sign with a child currently attending the Center reminded me of that child's infinite potential.
I am sorry that I did not get the opportunity to meet Priscilla and thank her in person for setting in motion the chain of events that lead to the Children's Center that I know. But I will be forever in her debt. Her life makes me think of the often-quoted line by Margaret Meade, "Never doubt that a small group of thoughtful, committed people can change the world. Indeed, it is the only thing that ever has."
The coincidence for me? How these events show that the future always has ties to the past. The agency that Priscilla began almost 45 years ago continues to grow.
Summer Fun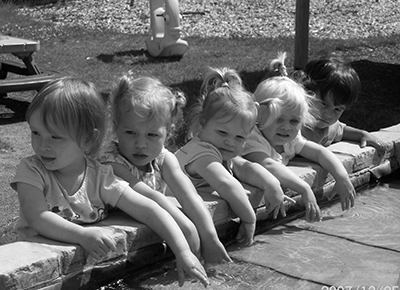 Summer will bring some exciting happenings to the Children's Center, including a program to promote children's development through a physical activity called "I am Moving. I am Learning."  Maine's Statewide Early Childhood Health Consultant, Joyce Murphy, will offer training to our child development, child care, and therapy staff so that we can get the kids up and moving while they learn. Tracing letter formations in the air with a sweeping movement of the arms is just one example of how this program helps children grasp kindergarten readiness skills while engaging their bodies.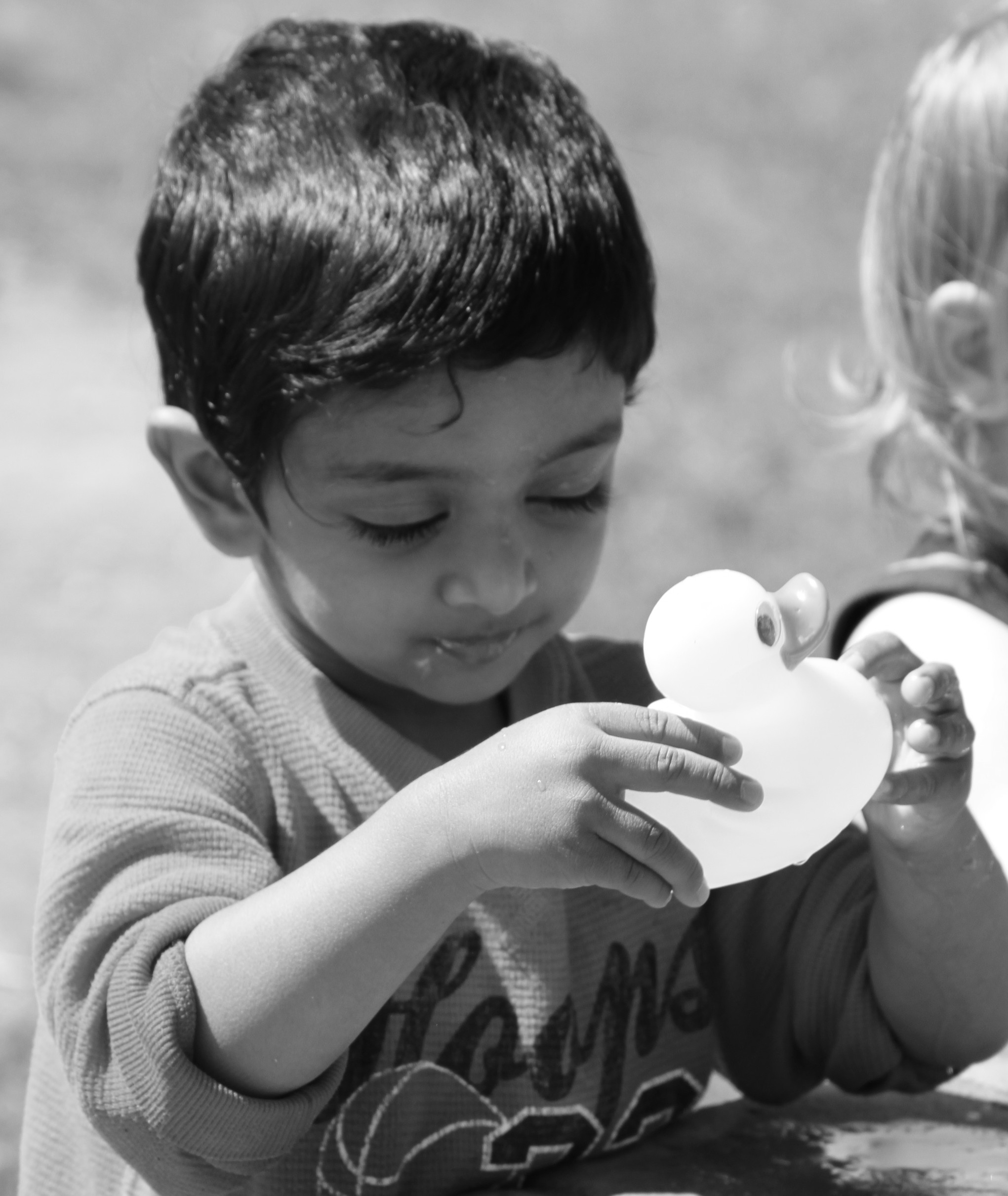 During this warm season, remember that nearly anything you can do with a child inside, you can also do with a child outside! Much of our kids' learning takes place outside on the playground or in the community on nature walks. The children especially love Angel Falls, our spectacular water feature. We use the opportunity of summer to teach children sun safety and water safety so that this season of heat is great for all.
Thank You, Jerry!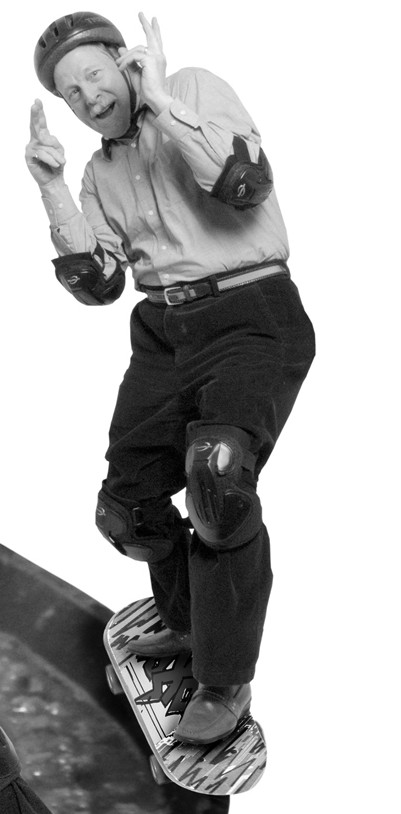 Gerald Stuart, who prefers to be called Jerry, has served on the Board of Directors for the Children's Center for the past six years. He worked as the manager of the Augusta Kmart store for 35 years. Upon retiring from his career in business, Jerry began to devote more of his time to local non-profit organizations.
He works tirelessly to make valuable contributions to young children and families. In 2005, Jerry joined the Chili Chowder Challenge committee where he demonstrates a can-do attitude with every task. His wife, Diane, serves on the Board of Directors for the Kennebec Valley Humane Society. The couple takes in animals in need of a loving home.
Jerry has assisted Diane with soliciting for the Humane Society's auction and setting up for fundraising events. Diane describes her husband's good work with loving and tender words, and calls him a "genuinely good man." Jerry is a modest man who will be embarrassed by these accolades, but we will miss him as he steps down from the Board of Directors.
Welcome, Cindy!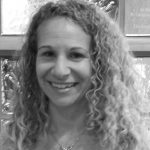 The Children's Center would like to welcome Cindy Bernstein, as our new Director of Therapy Services. Cindy was a Speech-Language Pathologist for 13 years, then returned to school to get a Master's in Educational Leadership with a focus on Special Education Administration. She is raising her own very young children, all of whom have special needs and required a lot of service coordination and support.
"I'm very pleased to join Children's Center as Director of Therapy Services," Cindy says, "bringing my personal, professional, and academic experiences to support the kids in receiving the services they need."
Current Board Members:
President ~ Warren Bartlett
Vice President ~ Dana Hamilton
Treasurer ~ Rep. Patsy Garside Crockett
Secretary ~ Kimberly MacKenzie
Christine Bartlett, Elisa Paylor, Glenn Gagne, Cristina Evers, Stephanie McGary, Paige Cummings